Ghee Rice with YES Rajabogam Rice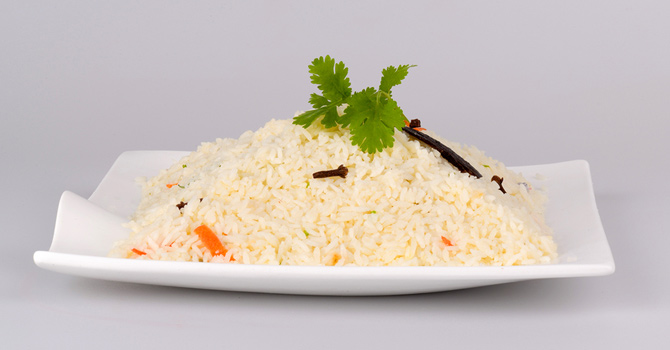 A light yet fancy fare, Ghee Rice makes a great dish when you want to create something spectacular with limited ingredients and time. The fragrance of desi ghee and aromatic spices makes this dish a stunner, fit for parties and elegant sit-down dinners! Learn how to make Ghee Rice with YES Rajabhogam Rice.
Ingredients: 1 ½ cup of YES Sona Rajabogam Rice (soaked & drained for 15 mins), ¼ cup ghee, 1 cinnamon (about 25 mm), 3 cloves, 3 cardamoms, 1 tsp each of finely chopped garlic & ginger, 1 ½ cups sliced onion.
To garnish: ¼ cup thinly sliced onion, ¼ cup fried cashews.
methods:
STEP 1:
Heat ghee in a pressure cooker, add the spices (cardamom, cinnamon, clove, ginger & garlic) and sauté on medium heat for a few seconds.
STEP 2:
Add onions and give it a stir for a few minutes.
STEP 3:
Add YES Rajabogam Rice, 3.5 cups of hot water and salt.
Mix well.
Leave it on for 2 whistles.
STEP 4:
Allow steam to escape before you open.
Separate grains of rice with a fork.
STEP 5:
Garnish with fried cashews & onion.
Serve instantly.