sambar rice with YES deluxe special rice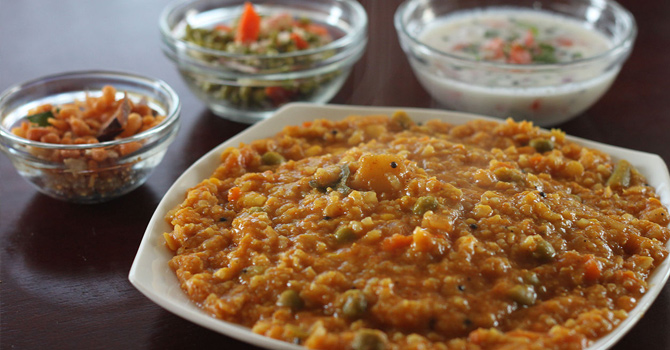 Sambhar Rice also called as bisibelebath, is a staple fair in South India, enjoyed for lunch, dinner and even tiffins. There are many different way to prepare this dish – some recipes require the rice and dal to be cooked together before tempering, while some call for sambhar to be made separately. However, all recipes call for good quality rice and dal to ensure the best taste. This recipe shows you how to make delicious Sambar Rice with YES Thanjavur Ponni Rice.
Ingredients:¾ cups of YES Thanjavur Ponni Rice, soaked for 2 hours, ½ cup of Tur dal, soaked in water for 20 mins. (Moong dal/Masoor Dal/Mix dal can also be used), 1 ½ tsp Sambhar Powder, 12-15 shallots/button onions, 1 tomato, quatered, 1 drumstick, cut into 3 inch pieces, 1 cup mixed vegetables, cut into cubes: pumpkin, snake gourd, okra, bottle gourd, carrot, A lemon-sized ball of Tamarind, soaked in warm water. (Alternately, 1 tbsp ready tamarind paste can also be used), 2 tbsp sesame oil or any cooking oil, 1/4 tsp Tumeric, A pinch of asafoetida.
For Curry Powder/Masala: 1 tbsp channa dal , 2-3 dry red chillies, ½ tsp fenugreek seeds, 2 tbsp grated coconut, 2 tbsp coriander seeds, 1 tbsp poppy seeds.
For tempering:2 tbsp ghee, 1/2 tsp mustard seeds , 10 curry leaves, 1/2 tsp fenugreek seeds , 1/4 tsp asafoetida , 1 whole dry red chilli, deseeded and cut into small pieces.
Methods:
STEP 1:
Cook the soaked YES Thanjavur Ponni Rice with 1 ½ cups of water and salt till soft. Mash rice lightly when cooked
Cook the soaked dal separately.
STEP 2:
Heat an iron skillet (or any pan). When hot, add all the ingredients under 'Curry Powder/Masala', except the grated coconut. Sauté till you get an aroma.
Now add the coconut and sauté till coconut turns light brown.
Grind all ingredients to a coarse powder.
STEP 3:
Heat oil in a large vessel or pressure cooker. Add the shallots. Once turned golden brown add the tomatoes and the rest of the vegetables. Sauté till vegetables are lightly cooked.
Now add the Turmeric, Sambhar Powder, Asafoetida, Curry Powder/Masala and Tamarind extract/paste. Close and let the vegetables cook in this mixture.
STEP 4:
Once vegetables are cooked, add the cooked dal. Mix well and add salt to taste (remember that the rice already contains salt). Cover and let mixture simmer over a low flame for 5 mins.
STEP 5:
Add cooked rice. Mix gently to combine everything. Add water as required.
STEP 6:
Heat ghee in a small iron ladle and add the ingredients under 'Tempering'. Once the ingredients stop sputtering, add this mixture to the cooked rice and dal.
STEP 7:
Serve hot with pickle, papad and curds or raita.