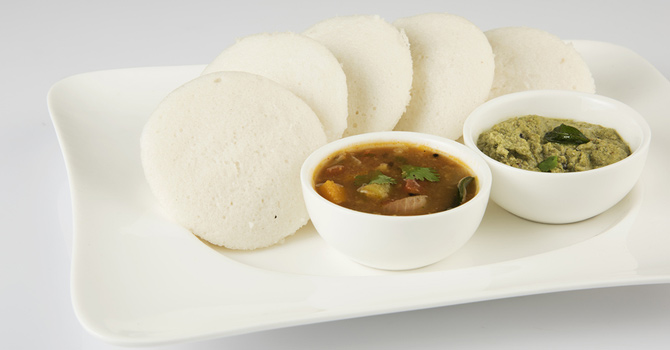 Piping hot, soft idlis make for a hearty and delicious breakfast. Idlis are a very common preparation in South Indian homes as well as Udipi restaurants – enjoyed with sides of sambar, coconut chutney, podi and a variety of pachadis. Not only that, an assortment of savoury dishes can be made with leftover idlis. This recipe shows you how to make the perfect idli batter with YES Doppy Rice for mouth-watering idlis!
Ingredients: 2 cups YES Doppy rice, 1 cup whole skinned urad dal, Salt to taste (approx a tsp), A small pinch of cooking soda (optional).
Methods:
STEP 1:
Wash and rinse the rice and urad dal separately in cold water. Soak them separately in water for about 2 hours.
STEP 2:
Drain the urad dal, keep the water. Grind the urad dal in a mixer grinder, adding some of the water occasionally till you get a smooth, flowy batter. Ensure the batter isn't too thick or too runny.
STEP 3:
Drain the rice and grind in a mixer grinder till you get a smooth batter. To test if the batter is smooth enough, mash a bit between two fingers. It should feel smooth without any rough or coarse bits.
Mix both batters
Note: If you're using a stone grinder or idli grinder, you can grind the rice and urad dal together.
STEP 4:
Let the batter rest for fermentation. You can add the cooking soda at this point, if needed. In warm climates idli batter ferments within 7-8 hours. In winters, you may have to leave it overnight or for 10-12 hours.
Note: The batter's volume increases by at least 50% after fermentation, so ensure you place the batter in a sufficiently large bowl. You can also place a large dish or tray under the bowl to take care of any spillover.
STEP 5:
Once fermented, spoon the batter into greased idli moulds.
Steam in a pressure cooker or steamer for 10-15 mins.
Note: Do not fill the mould entirely. The batter will rise up as it cooks to form idlis. Fill only 3/4th of each mould. If using a pressure cooker, do not use the cooker weight.
STEP 6:
Using a wet knife, spoon out steamed idlis one by one.
Serve hot with sambar, chutney and podi of your choice