Lemon Rice with YES Sona Delight Rice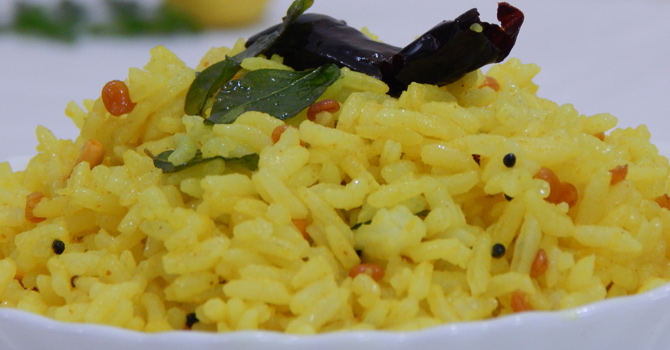 Lemon Rice is a vibrant, flavourful dish that is very easy to make. Non-spicy and filling, it can be relished by anyone – from children to the elderly. This brightly coloured rice dish can be made quickly with simple ingredients and YES Thanjavur Ponni Rice, making it a favourite for tiffins and picnics!
Ingredients: 1 cup raw rice, 6-7 tbsp lemon juice, salt to taste.
Tempering: 1 tbsp oil, 1/2 tsp mustard seeds, 8-10 curry leaves, 1 1/2 tsps urad dal, 1 tbsp channa dal, 2 dry chillis, deseeded and cut into small pieces, pinch of asafoetida, 1/2 tsp grated ginger, 2 green chillis, slit, turmeric.
Garnish (optional): Finely chopped coriander, Grated coconut, 3-4 tbsp roasted peanuts.
Methods:
STEP 1:
Wash and soak YES Thanjavur Ponni rice for 20 mins
Heat lots of water (about 3-4 lts) in a large cooking pot. When the water just starts to boil, add the rice and stir lightly.
Cover and let rice cook in this water, stirring occasionally. Once cooked, strain the rice and immediately wash it under running cold water. Add a tsp of oil and keep aside.
STEP 2:
Heat the oil in a heavy bottom pan or pressure cook. Add mustard seeds.
Once they sputter, add the curry leaves, dals, green chillies and red chillies. Saute till curry leaves turn crisp and dals start turning golden.
Add asafoetida, grated ginger and turmeric. Saute till the raw smell of ginger is no more
STEP 3:
Add rice and combine everything gently
Turn off heat and add the lemon juice and salt, combining once again to mix well. Adjust the lemon juice to your taste
Garnish with grated coconut, roasted peanuts and coriander before serving.